Financial Institution Regulatory Matters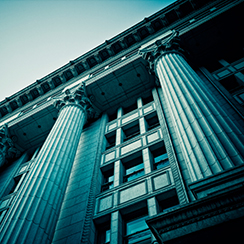 Financial institutions have dozens of regulations that they must comply with in order to do business, whether operating in California or elsewhere. Failure to comply with any one of these regulatory matters could result in serious consequences.
At Aldrich & Bonnefin, PLC*, our attorneys are committed to helping financial institutions navigate through the maze of regulations in order to safeguard companies against compliance issues. If issues arise, we have the experience to move quickly to mitigate exposure to loss or damage and get all processes back on track.
Guidance During Examinations
When an examination is scheduled, our lawyers can step in to help a financial institution prepare. From educating our clients on what to expect to proactively trouble-shooting and resolving any issues that an examiner may find, we can provide guidance during all types of exams, including:
Safety and soundness exams
Compliance exams
Bank Secrecy Act exams
Fair lending exams
Sarbanes-Oxley Act exams
If a criticism is raised, we can provide guidance to financial institutions on how to respond. We will get involved and work with bank regulators to negotiate orders, such as written agreements and cease and desist orders. Our goal is to see that the outcome of regulatory matters has as little impact on our clients' businesses as possible.
Guidance From Experienced Attorneys Serving the Financial Industry
Since 1985, our law firm has been providing financial institution services to banks, credit unions, savings associations and money transmitters, as well as other businesses that fall within the financial industry. Our clients trust us to help them handle all regulatory matters.
Contact Us for a Thorough Review of Any Regulatory Matter
Our attorneys are prepared to delve into legal issues that range from simple compliance questions to the highest levels of complexity. Call our law firm in Irvine at 949-474-1944 or send us an email to receive a prompt response.