Corporate & Securities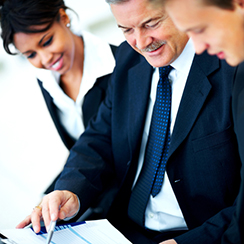 The law firm of Aldrich & Bonnefin, PLC* is well suited to act as general counsel to businesses in the financial industry. From new bank organization to corporate governance to mergers and acquisitions, our practice areas are designed to meet the needs of companies in this highly regulated industry.
Maintaining in-house counsel is not always a cost-effective option for financial institutions. Our lawyers are committed to providing the same service that in-house counsel would provide, at a fraction of the cost.
Our Services Are Extensive
Our attorneys can cover the legal matters that arise during the course of the life of a financial institution. These include general corporate governance matters, such as:
Annual meetings
Drafting bylaws
Securities filings
Due diligence
We can provide legal counsel during the formation of banks and financial institutions, including community development corporations (CDC). We can handle mergers and acquisitions. We can draft, review and negotiate all types of contracts.
Our Services Include In-House Director Training
In response to the ongoing developments in corporate governance, our law firm is pleased to offer in-house directors training. We provide comprehensive director education in corporate governance and the following areas:
Fiduciary duties and standards of conduct
Insider and affiliate transactions
Corporate responsibility
Regulatory compliance
Regulatory enforcement
Our Services Are Provided by Experienced Attorneys
Since 1985, our law firm has been providing legal services to California banks, credit unions, savings associations and money transmitters, as well as other businesses connected to the financial services industry. Our clients trust us to help them handle corporate and securities issues.
Contact Us for a Thorough Review of Any Corporate or Securities Matter
Our lawyers are prepared to delve into complex legal issues regarding corporate and securities matters. Call our law firm in Irvine at 949-474-1944 or send us an email to schedule a meeting.